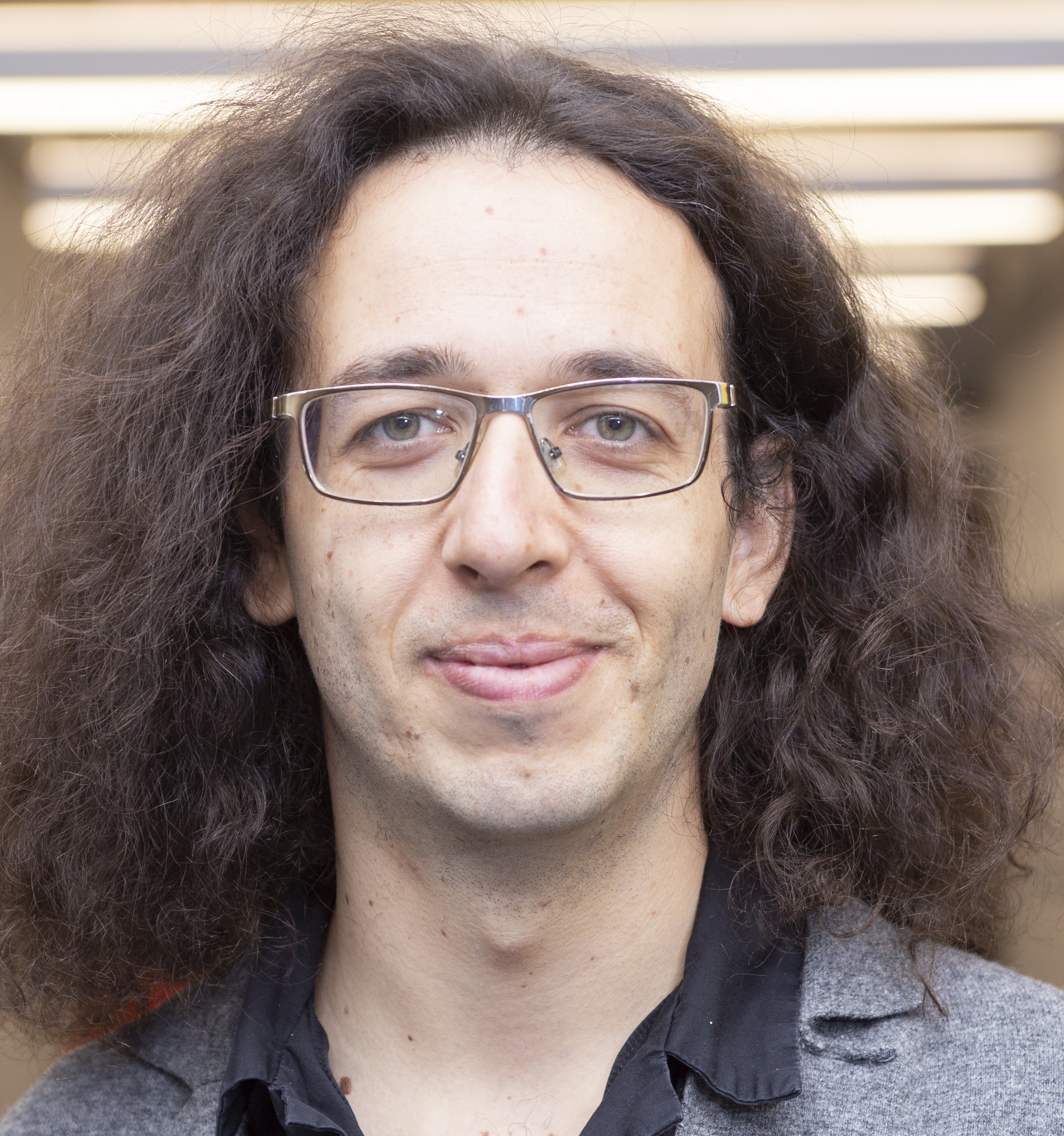 My research group
I lead the Human Computer Integration lab at the University of Chicago, which is dedicated to understanding and inventing the future of Human Computer Interaction (HCI). See our group's website for news and all publications.
Teaching
My vision: interactive devices that overlap with the user's body
My lab works on understanding and engineering how future input and output devices will overlap deeply with our bodies. This is an investigation that I started during my PhD (thesis), in which I created interactive devices that actuate the user's body using computer-controlled electrical muscle stimulation. The devices we built formed two main categories: (1) Devices that increased immersion in virtual reality by simulating large forces, such as wind, physical impact, or walls and heavy objects. (2) Devices that allowed users to access information eyes-free by means of their proprioceptive sense, such as a variable, a tool, or a plot. These interactive systems move past mobile and wearable computing in that they borrow parts of the user's body to interact with the user, resulting in devices that are not only exceptionally small, but that also implement a novel interaction model, in which devices overlap with the user's body.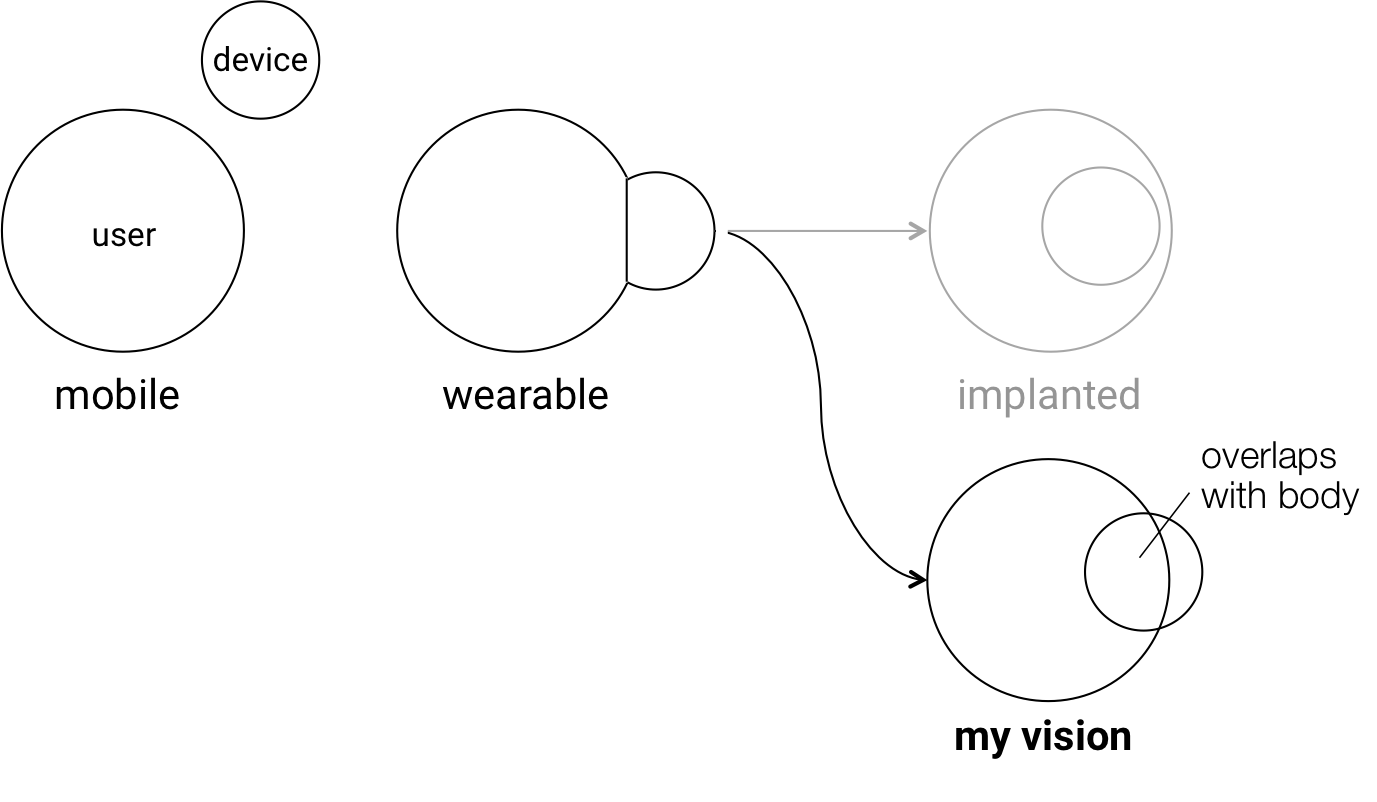 Magazine Articles with overarching vision
I've published two overarching articles at IEEE magazines that provide a deeper discussion of my research & vision for interactive devices tht overlap with the user's body. These two articles discuss how interactive systems based on EMS fit this vision.

2.Interactive Systems based on Electrical Muscle Stimulation
Pedro Lopes and Patrick Baudisch
Magazine article at IEEE Computer, vol 50, no.10, 2017.

1. Immense Power in a Tiny Package: Wearables Based on Electrical Muscle Stimulation
Pedro Lopes and Patrick Baudisch
Magazine article at IEEE Pervasive, vol. 16 Issue No. 03, 2017.
Publications on interactive devices that overlap with the human body (main venues are CHI & UIST)
Please see my lab's webpage for an up-to-date list of publications.
The following projects relate to my topic in that they originated directly from my line of research or inspired it:
Additional CHI & UIST full papers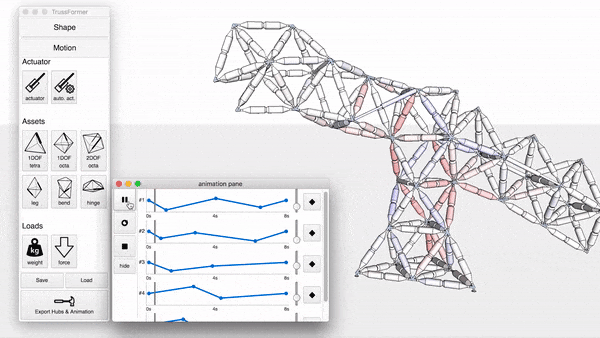 4. TrussFormer: 3D Printing Large Kinetic Structures
Robert Kovacs, Alexandra Ion, Pedro Lopes, Tim Oesterreich, Johannes Filter, Philip Otto, Tobias Arndt, Nico Ring, Melvin Witte, Anton Synytsia, and Patrick Baudisch
Full paper at UIST'18
TrussFormer is an integrated end-to-end system that allows users to 3D print large-scale kinetic structures, i.e., structures that involve motion and deal with dynamic forces. TrussFormer incorporates linear actuators into these rigid truss structures in a way that they move "organically", i.e., hinge around multiple points at the same time. [Read more]
This is work I did in collaboration with Robert Kovacs (who is the principal investigator on thiis topic).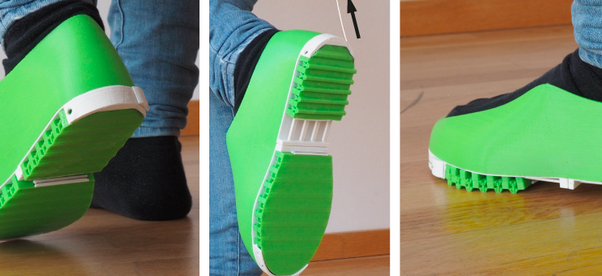 3. Metamaterial Textures
Alexandra Ion, Robert Kovacs, Oliver Schneider, Pedro Lopes, Patrick Baudisch
Full paper at CHI'18 (to appear)
We enable 3D printed objects to display different textures by transforming their surface. We demonstrate several textured 3D objects, including a shoe sole that transforms from flat to treaded, a textured door handle providing tactile feedback to visually impaired users, and a configurable bicycle grip. [more soon]
This is work I did in collaboration with Alexandra Ion (who is the principal investigator on thiis topic).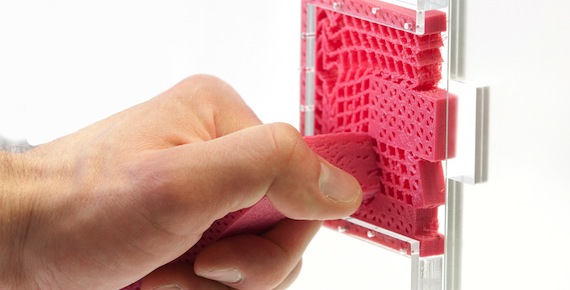 2. Metamaterial Mechanisms
Alexandra Ion, Johannes Frohnhofen, Ludwig Wall, Robert Kovacs, Mirela Alistar, Jack Lindsay, Pedro Lopes, Hsiang-Ting Chen, and Patrick Baudisch
UIST'16 Honourable Mention, top 5%, Full paper, p529-539.
So far, metamaterials were understood as materials—we want to think of them as machines. We demonstrate metamaterial objects that perform a mechanical function. Such metamaterial mechanisms consist of a single block of material the cells of which play together in a well-defined way in order to achieve macroscopic movement. Our metamaterial door latch, for example, transforms the rotary movement of its handle into a linear motion of the latch. [more]
This is work I did in collaboration with Alexandra Ion (who is the principal investigator on thiis topic).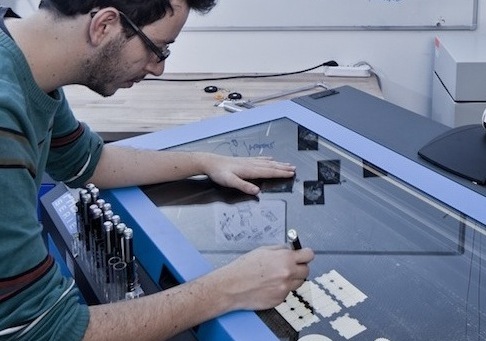 1.Interactive Construction: Interactive Fabrication of Functional Mechanical Devices
Stefanie Mueller, Pedro Lopes, and Patrick Baudisch
Full paper at UIST'12 p599-606.
Constructable is an interactive drafting table that produces precise physical output in every step. Users interact by drafting directly on the workpiece using a hand-held laser pointer. The system tracks the pointer, beautifies its path, and implements its effect by cutting the workpiece using a fast high-powered laser cutter. [more]
This is work I did in collaboration with Stefanie Mueller (who is the principal investigator on thiis topic).
CHI & UIST short papers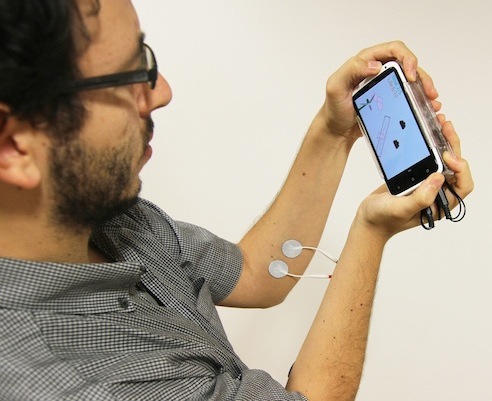 2. Muscle-propelled force feedback: bringing force feedback to mobile devices
Pedro Lopes, and Patrick Baudisch
IEEE World Haptics, People's Choice Nomination for Best Demo, Note at CHI'13, p2577-2580
Force feedback devices resist miniaturization, because they require physical motors and mechanics. We propose mobile force feedback by eliminating motors and instead actuating the user's muscles using electrical stimulation. Without the motors, we obtain substantially smaller and more energy-efficient devices. Our prototype fits on the back of a mobile phone. It actuates users' forearm muscles via four electrodes, which causes users' muscles to contract involuntarily, so that they tilt the device sideways. As users resist this motion using their other arm, they perceive force feedback. [more]
This was the core project that initiated my line of work in increasing realism (continued in Impacto and VR walls).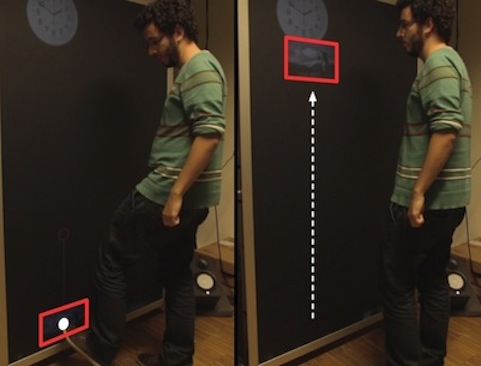 1. Let's kick it: how to stop wasting the bottom third of your large screen display
Ricardo Jota, Pedro Lopes, Daniel Wigdor, and Joaquim Jorge.
Note at CHI'14, p1411-1414.
We explore the design space of foot input on vertical surfaces, and propose three distinct interaction modalities: hand, foot tapping, and foot gesturing. We dinstinguish between feet and hands by feeding the sound of surface contacts (captured by a microphone) to a trainned machine learning classifier. [more]
This the second of a line of work (together with Ricardo Jota) using machine learning and acoustic features to distuinguish which part of the user's body (e.g., feet vs. hands) contacts an interactive surface (see also Augmenting touch through acoustic sensing).
Art projects from my research on EMS
A side effect of devices interacting directly through the user's muscles is that they question the traditional model of users controlling devices. This topic stimulated a lot of discussion in the lab.
One of the results of this debate was the creation of a prototypical device that reverses this paradigm and is controlling the user. Our creation, shown below, is a technological parasite that lives off human energy. The device harvests kinetic energy by electrically stimulating participants' wrists. This causes their wrists to involuntarily turn a crank, which powers the device.
We felt the debate and thus the device were of interest to the general public, but we also felt that its nature of asking a question (rather than giving an answer) made it more suitable for an artistic outlet. We have exhibited this device as an installation at prestigious venues such as the Ars Electronica (Linz, 2017) and Science Gallery (Dublin, 2017).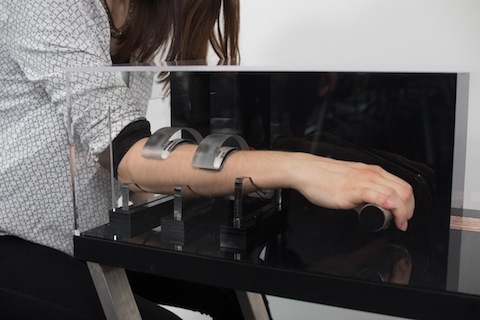 2. Ad Infinitum: a parasite that lives off human energy
Pedro Lopes, Alexandra Ion, Robert Kovacs, David Lindlbauer and Patrick Baudisch
Exhibited at Ars Electronica'17, World Economic Forum (San Francisco) and Science Gallery Dublin
Ad infinitum is a parasitical entity which lives off human energy. It lives untethered and off the grid. This parasite reverses the dominant role that mankind has with respect to technologies: the parasite shifts humans from "users" to "used". Ad infinitum parasitically attaches electrodes onto the human visitors and harvesting their kinetic energy by electrically persuading them to move their muscles using EMS. [more]
This piece is a critical take on the canonical HCI configuration, in which a human is always in control. Instead, here participants experience how it feels when a machine is in control.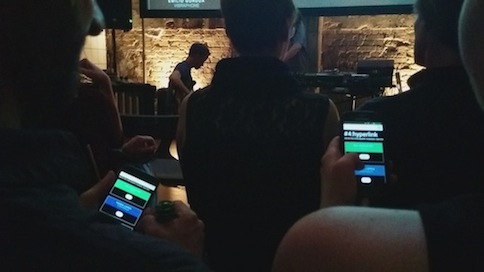 1. Conductive Ensemble or a rough guide to controlling musicians
Pedro Lopes (and supporting musicians)
Exhibited at Print Screen Festival (Tel Aviv) and Disruption Network Lab (curated by Tatiana Bazzichelli)
Conductive-ensemble is an art performance in which the musicians are controlled by the audience. On stage, a quartet of musicians is ready to "play". To interact: the audience members open up their browser and navigate to the performance's website. Control: when tapping on a musician's name on their screen, this website sends a stream of electrical muscle stimulation to that musician's muscles; causing the musician to play "against their own will". [more]
Art Exhibitions
Additional publications in Human-Computer Interaction
Best Talk award. Interacting with Wearable Computers by means of Functional Electrical Muscle Stimulation. Pedro Lopes and Patrick Baudisch. In Proc. NAT '17 (Neuroadaptive Technology, paper)
I, the device: observing human aversion from an HCI perspective, Ricardo Jota, Pedro Lopes, and Joaquim Jorge. 2012. In Proc. CHI EA'12, pg. 261-270. (paper)
Augmenting touch interaction through acoustic sensing, Pedro Lopes, Ricardo Jota, Joaquim Jorge, In Proc. ITS'11 (Interactive Tabletops and Surfaces). (paper, video)
Combining bimanual manipulation and pen-based input for 3D modelling. Pedro Lopes, Daniel Mendes, Bruno de Araújo, Joaquim Jorge, SBIM'11: Sketch-based Interface and Modelling, in cooperation with ACM SIGGRAPH and EUROGRAPHICS (paper, video)
Hands-on interactive tabletop LEGO application. Daniel Mendes, Pedro Lopes, and Alfredo Ferreira, in Proc. ACE '11: Proceedings of the 2010 ACM SIGCHI international conference on Advances in Computer Entertainment Technology (paper, video)
Battle of the DJs: an HCI Perspective of Traditional, Virtual, Hybrid and Multitouch DJing. Pedro Lopes, Alfredo Ferreira, João Pereira, In Proc. NIME'11 (New Interfaces for Musical Expression ) (paper, video)
Workshops lectured at Scientific Venues
Hands-on course on: "Electrical Muscle Stimulation", at ACM CHI'16 (workshop website)
Hands-on course on: "Electrical Muscle Stimulation as Haptics", IEEE World Haptics'15 (workshop website)
Chairing & Organizing
Program Committee Member for ACM CHI'19
Program Committee Member for ACM CHI'18
Program Committee Member for ACM UIST'18
Demo Chair for ACM MobileHCI'19
Program Committee Member for IEEE VR'18
Best Paper Committee for ACM UIST'17
Program Committee Member for ACM UIST'17
Student Innovation Contest Chair for ACM UIST'17
Student Design Challenge Chair for ACM TEI'17
Program Committee Member for Desform'17
Student Innovation Contest Chair for ACM UIST'16 (In this contest 18 teams used my EMS hardware)
Proceedings Chair for ACM UIST'13